Big Four Sign On to Levi's DAS and Construction Starts Ahead of Schedule
When 68,500 San Francisco 49ers fans pour into the new Levi's Stadium next fall, it's likely their smartphones will go into overdrive as they Twitter, text, share photos and make phone calls to prove they were there on opening day.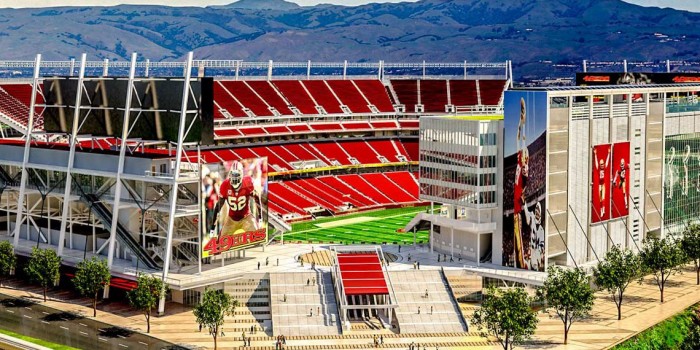 The team at DAS Group Professionals (DGP) is also in overdrive, working behind the scenes to make sure a record-breaking number of those messages and data go through. "Our goal is to exceed fan expectations, the ownership's wishes and the needs of the four national wireless carriers who have signed on to provide service using our distributed antenna system," reports Needham Windham, Director of DAS Implementation.
Construction on the DAS began four weeks ahead of schedule and all equipment has been ordered and will arrive to support the aggressive build schedule.
All four of the nation's largest carriers — AT&T, Sprint, T-Mobile and Verizon — are signed on to utilize the system.
The DAS, which is composed of components by Teko Telecom, Microlab and dbSpectra, will utilize a strategic array of small, discreet antennas installed throughout the facility. Calls and data are then routed and transmitted to a shared communications facility that parses and distributes the transmissions out by carrier. This approach ensures excellent, seamless coverage for fans served by the top four carriers.
The system has been designed for full integration with the stadium's wi-fi so that together, the systems will allow more mobile wireless traffic than in any other venue.
"When this system goes live, it will allow the 49ers to meet their goal of having the most technologically advanced stadium in the nation. It's going to set a new standard for fan expectations," says Needham.